Soji, I am so proud of you ! TailRed, I am so proud of you, too !
---Miharu
MIHARU MITSUKA
(観束 未春 Mitsuka Miharu)
_________________________________________
Voiced by: Hiromi Igarashi (Japanese); Jennifer Green (English)
_________________________________________
Miharu's Story
Sōji's 36-year-old mother. A widow who runs her own café named Adolescenza (アドレシェンツァ Adoreshentsa). Miharu's husband is deceased. Soji Mitsuka is her only child.

Soji's feminine looks and demure seems to have come from their mother, Miharu, as they look almost as if they were siblings, instead of mother and son/daughter. She is aware of her son's gender authentication is that of a bigenderist, who has a female gender identity, and therefore also knows that Soji Mitsuka changes gender expression back and forth from a teenage male ( at school and elsewhere ), to that of a teenage female named Solar ( at home and out in public ), and also to that of a teenage female Twin Tail Warrior named TailRed ( out in public when confronting the Elemelians ). She openly supports her only offspring, who has vowed to accept the role of a teenage female Twin Tail, and battle the Elemelians. Miharu has expressed herself on occasion that she has often dreamed of being in the position of being a heroine herself.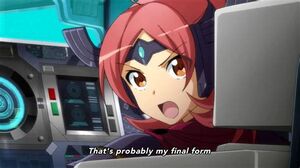 Although being too old to command Tail Gear herself and become a Twin Tail Warrior, nevertheless, Miharu wholeheartedly helps out at the Underground Command Center for the Twin Tails that was build beneath her house and cafe by Twoearle. Despite Twoearle being an alien being from another dimension, Miharu gets along surprisingly well with her, as they agree on many things. She also seemingly does not mind Twoerle's attempts at seducing Sōji and even asks her to 'make her offspring a hero / heroine'. Miharu also loves Aika as if she were her own daughter. However, Miharu greatly encourages Aika to befriend and comfort Soji during times of discouragement and need, not realizing that Aika is really much more than a childhood friend to Soji, that Aika is actually for some time now deeply in love with Soji/Solar.